Tētahi tū whakahaere hou
E whakakakotahi mai ana i ngā akoranga ahumahinga me te whakangunu ā-tuihono, ā-wāhi-mahi, ā-kura hoki mā tētahi kōtuituinga mauroa e taea ōna ratonga e tēnā, e tēnei rohe.
Te pohewa anō i te mātauranga ahumahinga
Ka tū te Te Pūkenga ko ia te kaituku mātauranga nui rawa o Aotearoa, ā, ka riro māna anō e totoro ki tēnā, ki tēnā rohe hei hoa whakangungu pūkenga mō te wā roa mō ngā pakihi me ngā ahumahi kia taea e ngā tauira te neke i waenga i ngā wāhi-mahi me ētahi atu akoranga, wāhi hoki ina ka rerekē ō rātou hiahia.
Ka noho ia hei taupunga mō tētahi pūnaha ahumahinga piritahi, mauroa hoki e hāpai ana i te oranga o ngā tāngata katoa o Aotearoa me te ohanga tipu e mahia ana mō te katoa.
Ka āwhina mātou kia neke a Aotearoa ki tētahi pūnaha mātauranga ahumahinga ko ngā tauira tonu te pūtake – mai i te āhua, kia rite ki te ako, ki te ako me ōna āhuatanga e rite ana ki te tangata me tōna ao te oranga, mō te roa o tōna oranga.
Kei te panoni te mātauranga ahumahinga i Aotearoa. Engari, he haerenga roa tēnei.
He whakawhitinga kōrero hou tēnei me ngā tauira – mai i te aha, me te wāhi e ako ana koe ki ngā momo huarahi ako kia rite tahi ki te huri o te ao.
Ka noho hei huarahi ako hou, whaimana, he huarahi whaihua, whaitake hoki ki ngā tāngata – he ngāwari ake te whai wāhi atu ki ngā akoranga me te neke haere i waenga i ngā wāhi ako.
Ko Te Pūkenga mātou | This is Te Pūkenga
Ko te pū o te harakeke te hiringa o tō mātou tuakiri. Arā, ko tōna wāhanga kaha ko te huinga pū o ngā aho.
Ahakoa he miro takitahi tātou katoa, kia pūpūtia ka kaha kē atu.
Ki konei, ka tuaringia e mātou he tirohanga hei whakawhiti mātauranga, pūkenga hoki.
Kotahi tonu te kaupapa o te whakaako me te ako, hei tuitui i te onamata ki te anamata tipu ora.
Nāu te rourou, nāku te rourou.
Ko pūtake mai tō mātou kaha i tēnei wāhi – ā, ka whakamahia ki te tautoko ki te hāpai ake tētahi i tētahi.
Koinei te pūtake e tipu ake ai, e puāwai hoki ai tātou katoa.
Ko Te Pūkenga tēnei.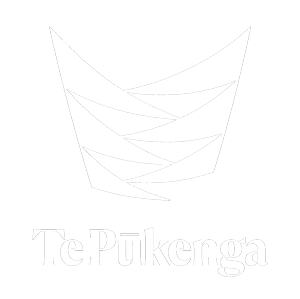 Our vision
Whakairohia e toki, tāraia te anamata | Learning with purpose, creating our futures.
The most well used and highly prized tool of the pre-European Māori world was the toki or the adze. This implement was used to fashion waka, build houses, fell trees and even create other tools. So prized was the toki that there are many Māori proverbs that speak of its application and people who were seen as proficient in various activities were called 'toki'. The notion of toki aligns with the name Te Pūkenga which also means to be proficient or skilled in particular roles.
By including the word whakairohia in the first part of the sentence, this phrase is encouraging people to upskill themselves, or equip themselves with the relevant tool. The second part of the phrase is about the future. The word tāraia means to fashion, shape or sculpt and anamata is the future. Therefore the phrase as a whole is about encouraging people to prepare themselves with a skillset that will help us all to shape the future.
Our values
Manawa nui | We reach out and welcome in
Manawa nui describes a person or group's behaviours that embody manaakitanga, humility, patience, respect, tolerance and compassion.
Manawa roa | We learn and achieve together
Manawa roa describes a person or group's behaviours that embody staying power, resilience, fortitude, grit and doing what needs to be done to achieve the collective goal.
Manawa ora | We strengthen and grow the whole person
Manawa ora describes a person or group's behaviours that embody breathing life into all aspects of another life form.
Our educational priorities
We have five educational priorities. They support us to meet our legislative requirements, and will guide our work over the next few years:
A relentless focus on equity and ensuring participation – we honour and uphold Te Tiriti o Waitangi in all we do.
Delivering customised learning approaches that meet the needs of learners and trainees wherever they are.
Using our size and scale to strengthen the quality and range of education delivery throughout Aotearoa. Excellence in educational provision for all.
Services that meet the specific regional needs of employers and communities.
Transition educational services in a smooth and efficient manner.
Ngā otinga e wawatangia ana | Our desired outcomes
How successful we are will be measured by how well we meet the expectations of our Charter. Te Pūkenga is grounded in nine outcomes that reflect our Charter:
Give effect to Te Tiriti o Waitangi in all that we do.
Provide exceptional learning experiences and equitable outcomes for Māori.
Be learner centred. Recognise the diverse and unique needs of all learners, with a focus on the unmet needs of Māori, Pacific and disabled learners, and staff, to empower diversity, belonging, and wellbeing.
Partner with employers to deliver relevant work-integrated education that meets skills needs.
Be responsive and empowering to staff and learners.
Become a connected and future focussed education provider driven by innovation, collaboration, research, data driven decision-making and teaching excellence.
Delivering regional flexibility and nationally consistent outcomes. Create-barrier free access, mobility across, and clear pathways within the network for learners.
Become a sustainable network of provision creating social, economic, environmental and cultural wellbeing.
Focus on efficient and cost-effective delivery across the network.
Mō te whakahoutanga
Ko te Whakahoutanga o te Mātauranga Ahumahinga (RoVE) te panoni nui rawa atu mō te mātauranga ahumahinga i roto i ngā tau 25 kua pahure ake.
Ko te ngako o tēnei whakahoutanga ko ngā tino panoni e whitu kua waihangatia ki tū pakari, kia tū kotahi tētahi pūnaha mātauranga ahumahinga mauroa e tika ana mō te āpōpō o te mahi, e whakarato ana i ngā pūkenga e hiahiatia ana kia tipu ora ngā tauira, ngā kaitukumahi me ngā hapori.
Te waihanga Workforce Development Councils kia riro mā ngā ahumahi e ārahi te mātauranga ahumahinga.
Te whakatū Regional Skills Leadership Groups mā rātou e tohutohu ki te Amorangi Mātauranga Matua (TEC), ngā kaunihera whanake ohumahi, me ngā kaituku mātauranga ahumahinga e pā ana ki ngā pūkenga e hiahiatia ana i roto i ngā rohe.
Te whakatū Te Taumata Aronui , hei āwhina i te whanaketanga o te pūnaha mātauranga ahumahinga, pēnei i te kaupapa whakahou i te pūnaha mātauranga matua (RoVE) kia pai ake tana tautoko i ngā wawata me te whakaata i ngā hiahia o ngā tauira Māori, ngā hapori me ngā kaitukumahi.

Te waihanga te kōtuituinga tū kotahi, mauroa, tūmatanui hoki he ngāwari ake ki ngā rohe te whai wāhi ki ngā akoranga, ko tōna ingoa tautapa ko New Zealand Institute of Skills and Technology.

Kia nekehia te kawenga o te hāpai i te ako wāhi-mahi mai i ngā Whakahaere Whakangungu Ahumahi (ITOs) ki ngā kaituku akoranga , mā reira e ngāwari ai te whakaurunga i waenga i aua rōpū e rua kia tutuki ai ngā hiahia ahumahi.
Te whakatū Centres of Vocational Excellence e tipu ai te tuku mātauranga ahumahinga, me te tuari marau, whakaakoranga tino kounga puta noa i te pūnaha.
Te whakakotahi i te pūnaha tuku pūtea mātauranga ahumahinga, kia hāngai ki te katoa o ngā kaituku akoranga me te whakangungu ā-wāhi-mahi, ahumahi hoki.
He kōrero anō
Mō ngā kōrero o tēnei wā mō te kaupapa whānui o RoVE, toro atu ki te pae tukutuku o
Te Amorangi Mātauranga Matua.
Mō ētahi atu kōrero mō ngā whakahoutanga, toro atu ki te whakawhiti kōrero ki Kōrero Mātauranga.
For personalised news and updates from Te Pūkenga.
Please complete all of the fields below.
Please enter a valid email address.
Please enter a first name.
Please enter a last name.
Please select a country.
Please select a valid date (MM/YYYY).