Tā mātou huarahi whakawhitinga
He tino kaupapa whakaumutanga kei
mua mā mātou mā Te Pūkenga.
Te hanga i te whakahaere hou
Ka whakatakoto tā mātou Huarahi Whakawhitinga i te ara ka whāia e mātou ki te hoahoa i te ao hou o te Ako Ahumahinga i Aotearoa. Ko tā mātou kaupapa whakatūhanga, whakawhitinga ka:
whakakotahi mai i ngā Pūtahi Hangarau me ngā Kuratini o Aotearoa me ngā ITO whakawhitinga hei pūtahi kotahi
whakawhiti i te kōtuinga, āna tauira tukunga, hononga Tiriti o Waitangi, tōna mata ā-tinana, ā-matihiko hoki, me ngā huarahi whakaanga, ā,
ka whakahaere i te kōtuinga kaituku, kia tika tonu ngā whakahaerenga i te wā o te whakawhitinga.
Ko te tino ki ēnei panoni ko tā mātou Huarahi Whakawhitinga, e whakaahuangia ana ki ōna anō aramahi Whakawhitinga e ono me ngā aramahi Āheinga Matua e toru.
Ka taea e koe te tiro i te wātaka mō ā mātou aramahi mā te pāwhiri i te pikitia kei te taha matau.
Ka whakamāramatia ngā aramahi i raro nei, ā, ka whakahoutia ngā kōrero i roto i te haere o ngā mahi.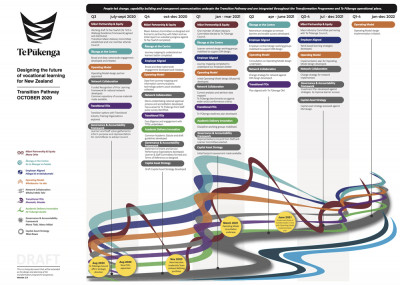 Te kawe tonu i ngā mahi o ia rā
I a mātou e kawe haere ana i tā mātou Kaupapa Whakawhitinga me te waihanga i tā mātou tauira whakahaere hou, ka kawe tonu mātou i te whānuitanga o ngā whakaakoranga ahumahinga, ngaio, mahi ā-ringa tino kounga, whaihua hoki huri noa te motu.
Ka tukua whakaakoranga mātou i ngā taumata katoa o te Anga Tohu Mātauranga o Aotearoa. Ka whakaata hoki ā mātou whakaakoranga i ngā hiahia o ngā ākonga, ngā pakihi me ngā hapori me ngā hiahia o te urupare ohaoha, urpare pāpori hoki o te urutā KORONA-19.
Our work plan
As we grow and establish ourselves, our work plan is used to group key activities, identify interdependencies, and ensure a connected and collaborative approach that is aligned to our Council priorities and Te Pūkenga outcomes. It supports us to take a methodical approach to the scale of the challenge ahead, with key milestones to ensure we meet the deadlines ahead of us. Our work plan is a living document that evolves as we do to ensure we are continuously aligning our mahi with the pace of change in the organisation and indeed our network. 
Our work plan includes six programmes of work. Included below is an overview of the projects within each programme that we are working on to reach Horizon 1 – 1 January 2023.
This plan was last updated in May 2022 and is subject to change.
Transition for learners

Learners treated as enrolled in Te Pūkenga with consistency in Te Pūkenga brand and communications.
Digital Marketing Ecosystem — a connected ecosystem of all network websites that provides a seamless experience for learners and employers providing them access to all opportunities available throughout the network.
All graduating learners receive a Te Pūkenga qualification (co-branded until 2025 for learners enrolled prior to 2023).

National Strategic Disability Action Plan

National Strategic Disability Action Plan implements the Accessibility Charter across Aotearoa New Zealand, consistent data collection on disabled learners, and training.

Expanded mental health and wellbeing services

Greater primary mental health services are available across Aotearoa New Zealand for all learners (national and regional levels).

Network quick wins

New Māori, Pacific, and disabled learners access new mentoring and early out-reach/connection services in most regions which focus on increasing access, participation, and retention across the network.

Learner success and equity

Te Rito learner success and equity action plans set a baseline for the network and drive equity for learners across Aotearoa New Zealand.
Learner Success and Equity Strategy is in place with Horizon 1 actions in place.

Te Pūkenga Outcomes Framework

Future outcomes framework drives network activities, investment, and performance from 2023; governance ensures overarching view of performance against the framework.
Network-wide data framework approach.
Data ethics and governance board established (developed with Māori technical experts).

Te Pae Tawhiti Te Tiriti o Waitangi Excellence Framework

Te Pae Tawhiti Te Tiriti o Waitangi excellence framework finalised and action plans in place within all subsidiaries, and Te Pūkenga to deliver impact monitoring.

Māori cultural capability

Lift the leadership practice and cultural capability to effectively partner with Māori.

Assets and liabilities

Capital Asset Management Strategy (CAMS) and plan.

Operating Model

Deliver and consult on future operating model and organisational design.
New high-level organisation design/structure is in place with key roles recruited.
Efficiencies & effectiveness (consolidation of subsidiaries, shared central capability or functions, financial viability of network).
Fast track selected enabling functions through:

Developing high level organisation structures

Selecting permanent Te Pūkenga leaders

Report Institutes of Technology and Polytechnic (ITPs) teams through to Te Pūkenga leadership

Developing and implementing detailed organisation structures

Generating efficiency initiatives.

Staged integration of early mover ITPs focusing on:

Regional models

Regional leadership structure/accountability design.

Te Tiriti partnership model

Develop Te Tiriti partnership model and implementation plan.
Develop Te Tiriti blueprint to inform operating model design and process, and develop implementation plan.
Develop a mechanism to identify, receive and protect Taonga Māori and Mātauranga Māori within Te Pūkenga.

Learner engagement ecosystem

Learner engagement framework and representation implemented through operating model and network-wide surveys in place.

Equity

Equity is integrated and embedded into Te Pūkenga operating model blueprint and operating model programme business case.

Unification of programmes

Establish and implement a transition programme of work for unification of programmes across the network.
Unification of Fees Across Network.
Unification and Equity Strategy for each fee type, fees standardised across qualifications and levels, and consistency in student levies.

Quality Management System and academic regulatory alignment

Establish and implement a Quality Management System and Quality Assurance Framework with roles and responsibilities for improved quality of provision.

Governance

Single council with advisory committees and sub-committees (WBL board dissolution no later than mid 2023).

Work Based Learning

Work Based Learning (WBL) subsidiary integrates into new structure no later than mid-2023.
Ongoing transition of TITOs (Transitional Industry Training Organisations) into WBL and Horizon 1 outlook.

Transition for employees and onboarding

This project aims to complete the legal transfer of our network employees into Te Pūkenga, together with a welcoming 'orientation'.
Employees are warmly welcomed through a series of engagements that connect them with one another, our network, our Te Piko Strategy, our leadership, and our Te Pūkenga way of working.
Employee transfer agreements / employment agreements, immigration accreditation, welcome to Te Pūkenga including onboarding, employee surveys.
Capability building for employees focuses on Te Tiriti, equity for learners, disability confidence to grow future capabilities required to support future transformation.

Change leadership

Deliver change required for Horizon 1 with focus on supporting employee networks, unions, and newly established change teams to support subsidiary readiness for change.

Ako Teaching and Learning Framework

Ako Teaching Framework co-designed and responding to learner, employer and employee insights and personas to inform capability development, CAMS (Capital Asset Management Strategy) and ISSP (Information Systems Strategic Plan).

Information Systems Strategic Plan (ISSP)

Develop the strategic vision and roadmap for provisioning of information technology for Te Pūkenga over a 2–3-year horizon.

Security and IAM (Identity and Access Management)

Ensure Te Pūkenga meets a minimum standard and that long-term security architecture is defined to inform the information systems strategic plan (ISSP).

Assurance

Assurance Management Plan.
Business Case IQA/QRA.
Other planned assurance activities.
For personalised news and updates from Te Pūkenga.
Please complete all of the fields below.
Please enter a valid email address.
Please enter a first name.
Please enter a last name.
Please select a country.
Please select a valid date (MM/YYYY).