Merran Davis' first day at NZIST was spent in a NZIST Council strategy session in Christchurch.
"It was a good way to start to get my head around the big picture," says Merran. "Then my first day in the office was helping NZIST to move into Wintec House, and that was nice to be on board Day One in the new office in Hamilton."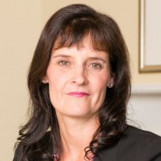 At the start of her second week, she was on the panel to choose a partner for the development of NZIST's operating model, a project which she will lead.
Most recently, as Interim CE of Unitec, she led the institution's turnaround in performance and now as DCE Transformation and Transition, she is charged with leading the transformation of the whole vocational education sector.
Merran is accustomed to the opportunities that come with change. Her diverse public and private sector experience includes teaching, research, executive leadership, complex collaboration, technology commercialisation, consulting and governance.
"This is my dream job," she says. "To have a once in a lifetime chance to change the education system from one based on the industrial model to one based on people and relationships, with learners at the centre, with access and equity."
Merran considers successful change to be based on deep respect for people, shared values and Te Tiriti o Waitangi. It was in part her passion for lifelong learning, inclusion and supporting people and organisations to realise their potential that excited her about the opportunity to be a senior leader of NZIST.
"For the last 30 years I've been saying tertiary education must move from a competitive model to a collaborative model in a country the size of New Zealand. For me, to be involved in that is what I want to do. Where collaboration has to be my modus operandi connecting the dots and us doing the change to ourselves and integrating the network instead of having it done to us."
Merran's first impressions of NZIST, established from her interaction with Council to the people she's met so far, is one of focus and aligned priorities.
"It's for real. Learners at the centre, equity, outcomes for employers and community – there's alignment between what people are saying and doing ... everybody's got that excitement."
Merran is the first of six DCEs starting over the next several weeks. Dr Angela Beaton, DCE Delivery and Academic and Vaughan Payne, DCE Operations will start in October; and by early November our complete leadership team will be in place.